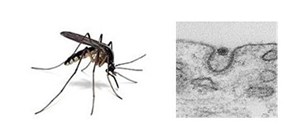 Zoonosis y Virología Medioambiental
Componentes:
Saiz Calahorra, Juan Carlos Cientifico Titular OPIs
Martín Acebes, Miguel Ángel Tit.Sup.Act.Téc.Prof.
Blázquez Martín, Ana Belén Colaborador I+D+i
Vázquez Calvo, Ángela Tit.Sup.Act.Téc.Prof. (Juan de la Cierva)
Escribano Romero, Estela Tit.Sup.Act.Téc.Prof.
Jiménez de Oya, Nereida Tit.Sup.Act.Téc.Prof.
Merino Ramos, Teresa Tit.Sup.Act.Téc.Prof.
Cañas Arranz, Rodrigo Investigador Visitante (CBMSO-CSIC)
Cooperación Internacional
El grupo mantiene colaboraciones con laboratorios de diversas Instituciones: The Scientific Veterinary Institute Novi Sad, (Serbia); el Instituto Nacional de Investigaciones Forestales, Agrícolas y Pecuarias (INIFAP), México; the Wadsworth Center, New York State Department of Health, Albany, New York, EE.UU.; Operational Directorate of Interactions and Surveillance, Veterinary and Agrochemical Research Centre (CODA-CERVA), Brussels, Bélgica; Consiglio per la Ricerca in Agicoltura, CRA (Italia); y Washington University School of Medicine, Saint Louis, EE.UU.